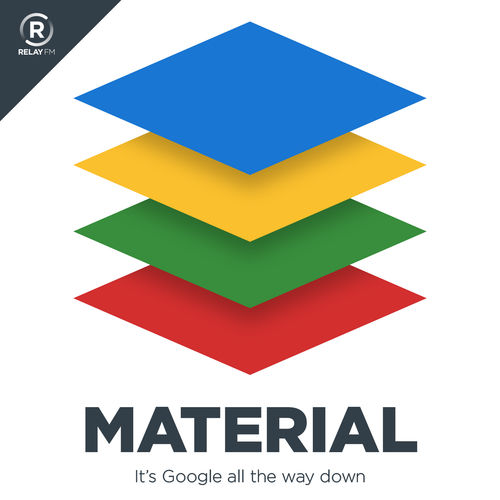 Material
Technology • News
Material is a weekly discussion about the Google and Android universe. Your intrepid hosts try to answer the question, "What holds up the digital world?" The answer, so far, is that it's Google all the way down. Hosted by Andy Ihnatko and Florence Ion.
Popular episodes
335: Quite Credible
Nov 25 • 01:17:31
Andy and Flo are using Google Duo to chat this week, and it's working out quite nicely! We talk about our Thanksgiving plans and the guise behind Andy's pies. Then, we're finally bringing you the Pixel 6 discourse you've been waiting for, followed by a few ripe nuggets from the rumor mill....
334: On The Back Foot
Nov 20 • 01:09:29
Flo finally got the Pixel 6, and Andy manifests for the Chromecast with Google TV to be a little more like the Nvidia Shield. Then, we chat about some of the latest follies around the Pixel 6 and what users are bringing up in the forums, including the phone's lackluster fast-charging performance and under-display fingerprint scanning issues. ...
333: The Passion Of The Pixel
Nov 13 • 01:19:32
It's a cozy end to the week. Andy has store credit, and Flo is waiting on a new phone. We discuss why Pixel 6 users are unhappy with the fingerprint sensor and manifest Google to add face unlock. Then, a bit on Google's new accessibility feature for people with speech impairments and why it isn't updating the Pixelbook in 2022. ...
332: Andy Takes Manhattan
Nov 4 • 01:19:21
The saga you've been waiting for is finally here: the tale of Andy's Boba Mett. Andy also has the Pixel 6 Pro in hand. Though he's not quite ready to talk about it just yet, he's got plenty to say about his visit to the Google Store in New York City. Then, we'll end on some hard news on Google's newest contract with the Pentagon. And why we're excited to hear about what's ...
331: The Hamster Wheel Of Life
Oct 29 • 01:15:11
Flo is back, and Andy is eagerly anticipating his Pixel 6 Pro pre-order. The Pixel 6 reviews are in, and it's positive across the board. Then, we'll talk about an Android tablet comeback. And, would you buy a Sony smartphone with mirrorless capabilities built-in? ...
330: Andy's Pixel Journey
Oct 23 • 01:14:37
Flo is out this week, so it's an Andy solo show. He's here to report on the trifecta of events we warned you about last week! So spooky! Andy reveals to us what his Halloween costume is, then confesses to pre-ordering the Google Pixel 6 Pro. He explains why he chose it over Apple's iPhone 13 Pro. ...
329: It Comes In Threes
Oct 16 • 01:10:58
Next week will be a flurry of tech announcements, including the long-awaited and much-revealed Pixel 6 event. Will Google announce something else alongside the sixth-generation smartphone? ...
328: It Happens
Oct 12 • 01:07:22
Last week's episode of Material is Very Late. But we're here, and we've got a ton to say on yesterday's Google news. We'll recap everything we already know about the Pixel 6 through leaks. We'll also discuss why Android 12 isn't technically out yet, even though it is, and why it's not that big of a deal that Windows 11 will run Android apps. Then we'll explain how not to n...
327: Where the Rubber Meets the Road
Oct 1 • 59:26
Google took the week to show off the new visual abilities of its search engine using its Multitask Unified Model (or MUM). YouTube has finally staked a claim against anti-vaxxers, just as it's facing a possible ban in Russia. And, we bet you can't guess what the most searched term is on Bing. ...
326: When Birds Attack
Sep 25 • 01:07:20
A major week for Android announcements! Microsoft is making another bet on the platform with the Surface Duo 2. Google pushed through a wave of new features to Android phones everywhere, including some that were previously Pixel-only. And we'll tell you what happens when Google drones trespass on raven territory. ...