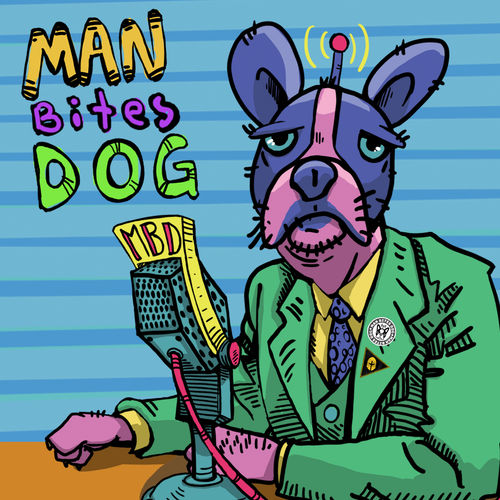 Man Bites Dog
Comedy • News
Man Bites Dog is a weekly 10-question game show based on weird and offbeat news stories. Hosted by Michael Hill, Grant Hengeveld, and R. Case Hill.
Popular episodes
122 - Apocalypse When?
Dec 2 • 50:26
We're back with a new game - the YEARS game! This one's all about crazy world-ending theories!...
121 - Happy Hanksgiving II
Nov 25 • 39:20
Its that time again! We spend way too long doing basically nothing but its all about the HANKS!...
120 - These Are My Pigeons
Nov 11 • 48:15
It's our 120th episode, and we celebrated by including a bunch of conversations that involve seeing us in person, which you can't. Because it's a podcast. ...
119 - The Dirty Back Nine
Nov 4 • 38:42
It's the NEWS GAME! We're back to our normal formula and we're headlining our way through the weird and wild of the week. ...
118 - Halloween Punchline Daddies
Oct 28 • 00:00
It's the final week of our Halloween month! Today we play a new game, all about stupid dad jokes and stuff. ...
117 - Fact or Fiction? (ft. Unnamed Guest)
Oct 21 • 51:28
It's the third week of Halloween Month! This week's quiz is a Fact or Fiction quiz based on creepy urban legends! ...
116 - Just Keep Spankin'
Oct 14 • 48:16
It's week #2 of our Halloween Month! This week is all about Halloween pranks gone wrong, fake superheroes, and lots of technical difficulties. ...
115 - Four Beard Halloween (ft. Two Beards Please)
Oct 7 • 48:26
Its our Halloween Month! Hang out with us throughout October for all the spookiness, horror, and creepiness you can handle! ...
114 - The Adventures of Naked Man
Sep 22 • 49:10
This week it's a HEADLINE HO-DOWN! We invent new frozen dinners, discuss our favorite animals, and follow the escapades of Florida Man!...
113 - Callin' the Shot
Sep 16 • 44:00
This week we discuss bad words, our dream wedding, and ten more news questions mostly based in Florida. Thanks, Florida Man! ...