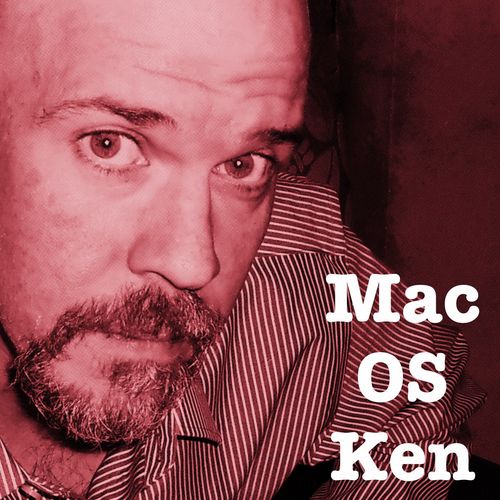 Mac OS Ken
Technology • News
This is daily Apple news. Monday through Friday, Ken Ray brings a short shot of tech happenings to your day. If it's Apple news, Apple-related news, or news related to Apple-related news, you'll hear about it here. News you'll like... this is Mac OS Ken.
Popular episodes
Mac OS Ken: 12.06.2021
Dec 6 • 17:12
- Sussing Out the Bloomberg/iPhone Post - Report: Apple Alerts Workers in U.S. State Department to Pegasus Attacks - Apple Fights Third-Party App Payment Mandate in Russia - Canadian Police Warn of AirTag Use by Car Thieves - Johansson Ghosts Apple TV+ Film "Ghosted" - Second Season of "Time to Walk" Wraps with Prince William - Ladder - Smart, Dynamic, Term Life Insurance....
Mac OS Ken: 12.03.2021
Dec 3 • 15:41
- Bad iPhone Takes as End-of-Year Tradition - Raymond James Analyst Not Convinced by Bloomberg Article - Wedbush Goes Even More Bullish on Apple with $200 Price Target - Apple Could Still Charge Commission on External Payments in Apps - Fourth Betas of iOS/iPadOS 15.2 Out to Developers and Testers - Fourth Beta of watchOS 8.3 Out to Developers - Fourth Beta of tvOS 15.2 Ou...
Mac OS Ken: 12.02.2021
Dec 2 • 15:00
- Midday: Apple and the Dow Were on a Tear - Apple and Markets Close Down on First U.S. Omicron Case - Bloomberg: Apple's Tells Suppliers Missed Holiday Aren't Coming Back - UBS: Slightly Shorter iPhone Waits Due to Supply Chain Improvements - Apple Seeks Stay in App Store Change Order - Former Tesla Exec Leaves Apple for Archer - Alfonso Cuarón Bringing Series "Disclaimer...
Mac OS Ken: 12.01.2021
Dec 1 • 16:07
- Munster: Apple Sales Missed in December-Quarter will Move to March-Quarter - Trendforce: Apple Will Be Global Smartphone-Maker by Year's End - Trendforce Expects 5G iPhone SE in Early 2022 - Canalys: iPad Grew in 3Q in Western Europe While All Other Tablets Declined - Apple Shares Hit New Closing High - Needham: AAPL Outperformed on Cashflow, Products, and AR - Apple Mar...
Mac OS Ken: 11.30.2021
Nov 30 • 15:16
- Apple Launches Mac Subscription Plan for Small Business - Apple and Amazon Fined in Italy Over Beats Reseller Restriction - Apple and Google Fined in Italy Over Alleged Misuse of Consumer Data - Apple's Head of Battery Development Leaves for Volkswagen - Updated Shazam App Listens Longer for Musical Match - Apple TV+ Announces Three Children's Holiday Specials - Notion -...
Mac OS Ken: 11.29.2021
Nov 29 • 16:09
- News on "Omicron," the Latest COVID-19 Variant - Wedbush: Apple Omicron Sell-Off a Buying Opportunity - Counterpoint Research: October Sales Put iPhone Back on Top in China - Bloomberg's Gurman: Who Said 2025 for Apple Car?!? - Ming-Chi Kuo: Apple Plans to Replace Smartphones with AR in Next Decade - Apple Sues NSO Group Over Apple User Surveillance - Tuesday: Turkish Li...
Happy Thanksgiving from Mac OS Ken!
Nov 24 • 01:52
Mac OS Ken: 11.23.2021
Nov 23 • 11:29
- Motley Fool: Holiday Sales and Car Talk Drive Apple Shares to New Highs - JP Morgan Analyst Sees Shorter Waits for iPhone 13 - Neil Cybart: No One Things Is Driving Apple Shares Up - Apple Shares Hit New Intraday and Closing Highs - Apple Announces Holiday Shopping Promo - Apple Will Host Self Service Repair Manuals on Support Site - Item Finder Tile to Be Acquired by Fa...
Mac OS Ken: 11.22.2021
Nov 22 • 10:52
- Morgan Stanley is Into Apple Car Talk - Wedbush Would Like to See Apple Partner on a Car First - CIRP: Apple's Self Service Repair Won't Slow iPhone Sales - Apple Says Employees Can Totally Talk Pay Equity If They Want To - Apple The Grove Hosts "Ted Lasso" Cast Q&A Ahead of Grand Opening - Cook and O'Brien On-Hand for Apple The Grove Grand Opening - Power what we do nex...
Mac OS Ken: 11.19.2021
Nov 19 • 17:41
- Rumor: Apple Aiming for Self-Driving Car in 2025 - Car Talk Pushes Apple Shares to New Closing High - Apple Shares Hit New Intraday and Closing Highs - CNET: Apple Plans to Reopen Offices in February - Face of #AppleToo Movement Settles and Bounces - Apple Among Defendants in $750M Astroworld Lawsuit - Apple Among Defendants in $2B Astroworld Lawsuit - Apple Appeal Seeks...