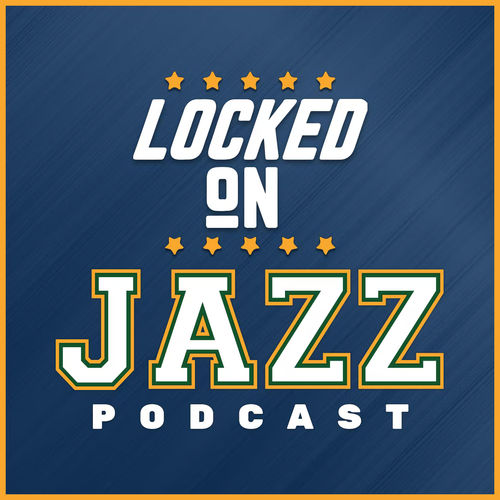 Locked On Jazz - Daily Podcast On The Utah Jazz
Sports
Thoughts of Utah Jazz Radio Play-By-Play Announcer David Locke. Highlighted by the daily podcast LOCKED ON JAZZ and during the season post-game show POSTCAST. Part of the Locked On Podcast Network, Your Team Every Day
Popular episodes
Two thrilling Utah Jazz wins
Dec 6 • 36:19
What a weekend for Utah Jazz basketball. The Utah Jazz played an unreal game against the Boston Celtics on Friday and then matched it with an equally amazing game on Sunday against the Cleveland Cavaliers....
POSTCAST - Big men dominate, guards shine, Jazz get first win of trip
Dec 5 • 14:01
POSTCAST - Incredible night at Vivint as Jazz and Celtics go toe to toe to the end
Dec 4 • 12:59
Celtics preview with Locked On Celtics Crossover and Points Gained Friday
Dec 3 • 43:42
Utah Jazz and the Boston Celtics battle it out on with some NBA Action Friday night in Salt Lake City. Beforehand, David Locke of Locked On Jazz and John Karalis of Locked On Celtics go toe to toe getting ready for the match-up in a Locked On Crossover edition....
December will be awesome and quite a test for the Utah Jazz, mostly on the offensive side of the ball
Dec 2 • 34:42
Thus far the Utah Jazz have played one of the easiest schedules in the NBA. In the month of December they won't see the biggest names of the game, but instead they will play quality opponent after quality opponent. The stretch should reveal a lof about the Jazz and what they need to work on plus where they sit in the NBA elite. ...
Phoenix Suns and Golden State Warriors set gold standard, how to keep Joe Ingles rolling
Dec 1 • 36:06
The Utah Jazz were the #1 seed in the West last year. This year the Phoenix Suns and Golden State Warriors have vaulted ahead and played last night. The game showed a lof ot what it is going to take to win the West for the Utah Jazz. ...
Rudy Gobert dominates, Should Joe Ingles be in starting lineup, Utah Jazz blow out win
Nov 30 • 35:54
The Utah Jazz had their best performance of the NBA Season with a blowout win over the Portland Trailblazers. The Jazz took advantage of all the Trailblazers weaknesses breaking their defense time and time again....
POSTCAST - Jazz have most complete outing of the season
Nov 30 • 13:39
The Utah Jazz dominate the Portland Trailblazers on both ends of the floor in their best performance of the season. The offense broke the Blazers defensive strategy time and time again and on the defensive side Rudy Gobret altered the game as he does do often....
20 games into the season, what do we know about the Jazz, the West and the NBA
Nov 29 • 34:16
20 games into an NBA season is the mark where the records mean something, the data is an indicator of performance and the playoff picture is surprisingly clear. ...
POSTCAST - Jazz get revenge and set fire to the Pelicans
Nov 28 • 13:27