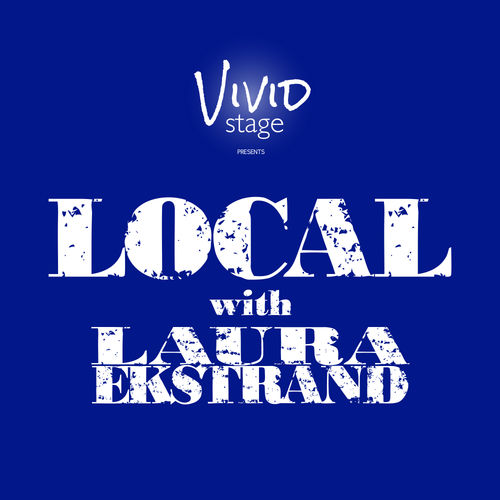 Local with Laura Ekstrand
Arts • Society-and-culture
Laura Ekstrand, Artistic Director of Dreamcatcher Rep in Summit, New Jersey, explores what it means to make art and culture in New Jersey. Join her for smart, thoughtful conversations with local actors, playwrights, directors, and arts professionals.
Popular episodes
Emma Gibson- Theatre is Immediate
Nov 28 • 28:36
This month on Local, Laura connects with playwright, actor and director Emma Gibbson. Emma is a British playwright now based out of Philadelphia, where she founded the theatre company Tiny Dynamite. Vivid Stage fans can look forward to seeing Emma's writing come to life in the main stage production of her play; Water in My Hands. Emma talks with Laura about her journey and...
Harry Patrick Christian - I Respond Even Bigger In Kind.
Oct 21 • 33:43
In this episode of Local, Laura sits down with actor and teaching artist Harry Patrick Christian. Harry hails from the great state of Georgia where he began his acting career as a teenager. Vivid Stage fans know Harry well, from years of his amazing performances. Harry talks with Laura about his life as a teaching artist and actor — from his experience teaching workshops w...
Stephanie Windland - We don't want you - we want someone from Instagram that has cool tattoos.
Sep 23 • 27:38
Kicking off Local Season 4, Laura sits down with actor and singer Stephanie Windland. Stephanie received her BA in Musical Theater and Communication Studies at Fairleigh Dickinson University in New Jersey, and currently lives and works in New York City. Vivid Stage audiences will remember her from the 2018 main stage production of Dead and Buried. Stephanie tells Laura wha...
Joe Sutton - Storytelling Through Captured Human Behavior
May 10 • 30:23
On the season finale of Local, Laura chats with the incredibly talented Joe Sutton. They talk about his return to New Jersey, his native New Yorker bias against the Garden State, and overcoming the Jersey stigma to fall in love with Montclair. Joe went to grad school as a director, but almost immediately realized that artistic opportunities were greater as a playwright. Wi...
Daria M. Sullivan - I Want to Learn as Many of the Things…
Apr 18 • 30:43
On the April podcast we're joined by Dreamcatcher Rep company member Daria M. Sullivan — the M is important, don't forget the M! Laura and Daria talk about how they first met, racism in the acting industry, the audition grind, and the challenges and triumphs of discovering your voice as an artist. Don't miss Daria this month in Everything is Super Great: A Comedy, opening ...
Jason Szamreta - We are not just ONE thing
Mar 14 • 28:14
This month on Local, Laura talks with Dreamcatcher Rep company member Jason Szamreta. In this fun, light-hearted interview, they get deep into what makes Jason tick and what makes him fulfilled — including his enthusiastic eating.  Jason discusses his decision to enter the field of social work in addition to acting, and how the two fields inform each other. They remember s...
Jeff Knapp - Come In and Make the Noises
Feb 7 • 29:04
Local is back! And to kick off the new year, Laura sits down with Dreamcatcher Rep's resident Sound Designer Jeff Knapp. In this fascinating and intimate interview, Jeff talks his college radio DJ days, being a theater student at a school without a theater, and his infamous appearance in The Sound of Music as "Captain Von Knapp." He goes on to talk being a theatre sound de...
Jessica F. Baskerville: Community, Culture and Catharsis
Nov 30 • 25:38
Jessica F. Baskerville is a playwright based in New Jersey. She joins Laura for a fascinating and wide-sweeping conversation, covering the personal, political, and the life and work of a young creative whose work thus far has been intimately focused on community and sotries in New Jersey. Jessica tells Laura about attending Whitney Houston Academy in East Orange where she ...
David Lee White: It's My Medium
Oct 18 • 30:16
In this episode, Laura is joined by playwright and educator David Lee White. A longtime friend and frequent Dreamcatcher collaborator, David has worked with theatres and theatre programs across the New Jersey, New York, and Pennsylvania area. And this month with Dreamcatcher, we're thrilled to be virtually premiering David Lee White's audio play Ways to Be Happy....
2 reactions
Deonté Griffin-Quick: Envisioning What's Possible
Sep 27 • 26:01
In this first episode of Season 3, actor, singer, arts administrator, and advocate Deonté Griffin-Quick joins Laura. Hear Deonté discuss how he made his way into arts administration, how he uses his voice to advocate for diversity and equity in the arts, and how important it is for him to continue flexing his creativity as a performer....