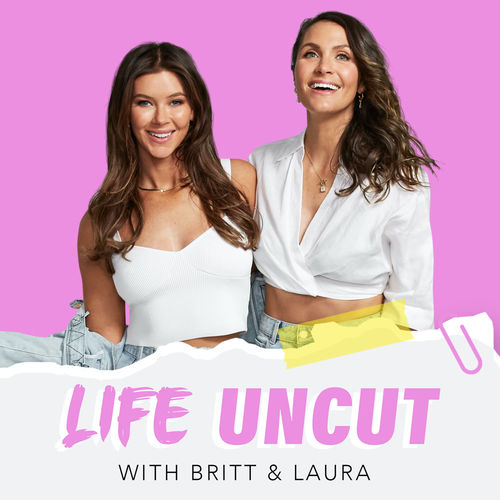 Life Uncut
Society-and-culture • Tv-and-film • Arts
Talking all things love, life, lust, and a bunch of other stuff. Nothing is off limits in this podcast that navigates relationships and dating in the modern day. Brought to you by two bachelor finalists Brittany Hockley and Laura Byrne.
Popular episodes
ASK UNCUT - Burn out, prudish friends and it turns out I banged the guy I'm datings mate... help.
Dec 1 • 40:16
The soft fade vs honest upfront debate is on!...
UNCUT with Michael Theo from Love On The Spectrum
Nov 29 • 01:03:35
Welcome to your Tuesday Lifers!...
BACHETTE UNCUT - Brooke and Darvid fly off on a magic mower to live happily ever after
Nov 26 • 55:46
OH MY GOD… It's our final Bachette episode!...
ASK UNCUT - When it comes to casting for reality TV, how far is too far?
Nov 24 • 43:04
Happy therapy Thursday lifers,...
Pivoting careers, writing novels and switching up gender norms with Sally Hepworth!
Nov 22 • 01:24:41
Welcome lifers to a laugh and a half episode with Sally Hepworth....
BACHETTE UNCUT - We riot for Konrad
Nov 18 • 01:11:08
Strap yourselves in because this week is an old-school bachette marathon session - that's right, three episodes in one week ! Holly gets the first single date and she's making bracelets with Brooke - it's sweet and lovely and the bracelets are totally gorg. Would you believe me if I said there was no dancing on this date? Sad but true. For the group date - Osher meets the ...
ASK UNCUT - Kendall Jenner's wedding attire and can you co-parent a pooch with your ex?
Nov 17 • 51:05
ATTRACTION PART 2 - Is it a "grower" or a "shower"?!
Nov 15 • 01:11:35
Welcome to attraction part 2!...
BACHETTE UNCUT - Snow globes and Mardi Gras
Nov 12 • 31:57
WE ARE BACK! Sorry for leaving you high and dry last week. The recording equipment broke, and we swear this wasn't a clever rouse so that Laura and Matt could have a holiday.... hell,. they have two kids.... they don't holiday, they just parent their children in new locations....
ASK UNCUT - Freebies from friends and age gaps
Nov 10 • 50:06
Happy Thursday lovely lifers and welcome to church....