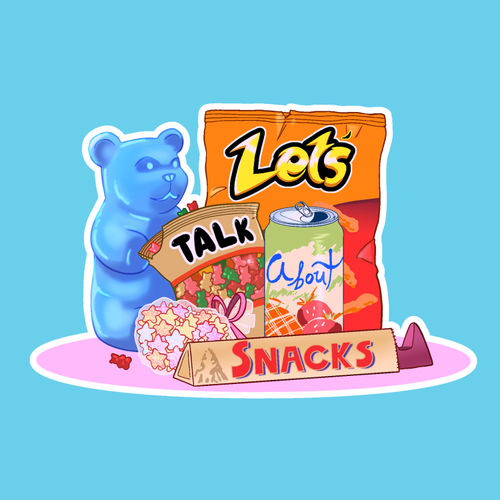 Let's Talk About Snacks
Arts • Comedy
Welcome to Let's Talk About Snacks, a snack-sized podcast! The focus of Let's Talk about Snacks is, you guessed it, snacks! Every week join Lauren Morgan, Conrad Zimmerman, and Linda Camiolo as they discuss snack news, snack reviews, diy snacks and everything else worth snacking on.
Popular episodes
Oat Nog
Dec 7 • 44:09
This week the gang tries some seasonal treats and breaks down an extensive list of festive new snacks!...
Unfindables
Nov 30 • 33:26
This week the gang gabs about goo, learns about a new cereal, and has some concerns about an edgy new line of chips!...
Please, My Sonion, He's Very Sick...
Nov 16 • 46:52
This week the gang reveals some shameful eating habits, discusses retro candy, and reveals a plethora of new products!...
This is Snack Tyranny
Nov 2 • 48:08
This week the gang chats about chicken, has TWO Ramses Moments, and debunks a popular Halloween myth!...
Gettin' Iced In Y2K
Oct 25 • 36:03
This week the gang learns about charcuterie, talks a lot about cheap alcohol, and announces some structural changes to the show!...
The Edge of Salmonella Danger
Oct 12 • 46:08
This week the gang bakes some cookies, discusses several uses for dehydrated marshmallows, and wonders if the kids on TikTok are alright!...
Horrors of the Fall Season
Oct 5 • 35:49
This week the gang doesn't mix up some smoothies, explores some European candy, and is horrified by some really unusual fall treats!...
Pancake it Forward
Sep 27 • 33:25
This week the gang whips up some pancakes, tries some new gummy treats, and learns about some new sweet treats!...
Please Wet My Wets
Sep 16 • 40:15
This week the gang stays frosty with ice cream sundaes, indulges in some other chilly treats, and delivers another annoying assortment of Snews !...
Let's Talk About JNCOs
Sep 7 • 33:00
This week the gang whips up some grilled cheese sandwiches, samples some new beverages, and talks a lot about JNCOs!...