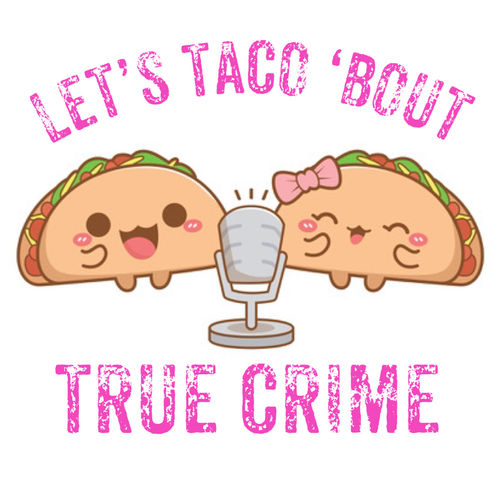 Let's Taco 'Bout True Crime
True-crime • Tv-and-film
Esther, host of Once Upon a Crime, brings a fresh and spicy take on true crime podcasts. On each episode, Esther and a guest host will dish on what's new, hot & trending in true crime!
Popular episodes
Let's Taco 'Bout True Crime Breaking News
Jul 2 • 01:20:13
My special guest this week is Aurora from Murder Murder News. We discuss the Joseph DeAngelo/Golden State Killer guilty plea, the Lori Vallow-Chad Daybell Case updates, the Danny Masterson rape charges and more. ...
Let's Taco 'Bout Women and True Crime
May 28 • 01:26:52
In this episode I and my guest, Erica from Southern Fried True Crime, discuss what draws women to true crime stories, what it's like being a woman true crime podcaster and share breaking news about another plagiarism case directed at true crime podcasters. ...
Let's Taco 'Bout "McMillions"
May 14 • 01:28:59
On this episode we'll be discussing "McMillions" the six-part HBO documentary series that details the FBI investigation into the McDonald's Monopoly fraud case....
Let's Taco 'Bout True Crime Quarantine and Chill
Apr 30 • 01:04:18
On this episode you'll hear from some of your favorite true crime podcasters to get recommendations on best ways to pass the time while under stay-at-home orders - true crime style, of course! ...
Let's Taco 'Bout "The Tiger King"
Apr 16 • 01:39:50
On this episode, my guest host is Brianna from Murder Dictionary Podcast. We talk about the true crime documentary series that has taken the world by storm "The Tiger King: Murder, Mayhem and Madness". ...
Let's Taco 'Bout "Stolen by My Mother: The Kamiyah Mobley Story"
Feb 6 • 01:23:42
My guest host on this episode is Alvin Williams from the Affirmative Murder Podcast.  We discuss the Lifetime television movie "Stolen by My Mother" that details the true crime case of Kamiyah Mobley. Kamiyah was kidnapped from a Florida hospital when she was a newborn.  It wasn't until she was sixteen-years-old that she discovered the woman she knew as her mother was her ...
Let's Taco 'Bout Being a Podcaster w/Aaron from The Generation Why
Oct 22 • 01:07:14
My guest this time is Aaron from The Generation Why and Framed: An Investigative Story podcasts. I get to ask Aaron about podcasting from both sides - producing a weekly, episodic show and a serialized podcast. We also talk about the highs and lows of being a podcaster and get to know a little more about Aaron. ...
Let's Taco 'Bout The Teen Mom-Amber Portwood Arrest
Oct 8 • 01:15:09
My co-host this time is comedian Tracey Carnazzo, host of Teen Mom Trash Talk Podcast. We talk about the legal troubles and latest arrest of reality TV personality Amber Portwood of the MTV show "Teen Mom OG". ...
Let's Taco 'Bout "I Love You, Now Die"
Oct 2 • 01:19:23
In this episode my guest host is Lorena Garcia who joins me to discuss the 2-part documentary, "I Love You, Now Die" about the Michelle Carter case. ...
Bonus Episode: Let's Taco 'Bout the Crime Junkie Plagiarism Scandal
Aug 27 • 01:28:27
On this bonus episode I talk about breaking news in the true crime podcast community - the Crime Junkie plagiarism allegations. My guests Steven Pacheco from Trace Evidence and Robin Warder from The Trail Went Cold have both been connected to this story. My own podcast, Once Upon a Crime, has also been directly affected. ...