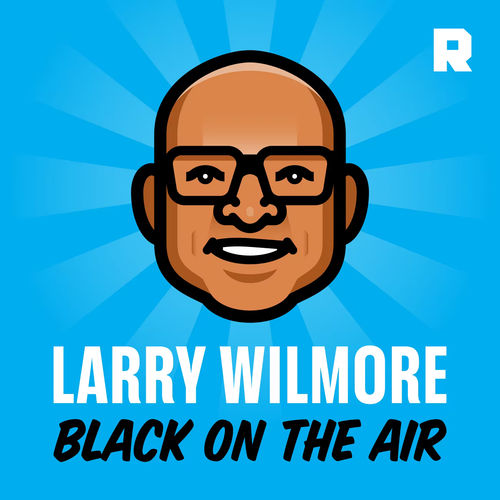 Larry Wilmore: Black on the Air
Society-and-culture
Emmy Award—winning producer, actor, and comedian Larry Wilmore is back on the air, hosting a podcast where he weighs in on the issues of the week and interviews guests in the worlds of politics, entertainment, culture, sports, and beyond.
Popular episodes
Jabez Olssen on 'Get Back' and the Beatles
Nov 21 • 01:25:45
Larry weighs in on the Kyle Rittenhouse trial and the trial of Ahmaud Arbery's killers, right-wing vigilantism, and why he loves the Beatles. He's then joined by film editor Jabez Olssen ('Lord of the Rings,' 'King Kong') to talk about the making of the upcoming Beatles documentary, 'Get Back,' (25:49) and how the original 'Let It Be film and LP came together (28:00). Then...
Bob Costas on Baseball and Broadcasting
Nov 14 • 01:31:51
Larry weighs in on the infrastructure bill, unnecessary racism in political commentary, and how Darwin influences our points of view. He's then joined by Bob Costas where they discuss Pete Rose (27:07), Bob's early broadcasting influences (31:21), and Baseball's waning popularity. After that they wax poetic on the importance of regional announcers (42:01) Larry asks Bob ab...
David Copperfield on the Past, Present and Future of Magic
Oct 31 • 01:25:04
Larry weighs in on his birthday, the Dave Chappelle controversy, and cancel culture. He then joins David Copperfield in Las Vegas to discuss his book "History Of Magic" and his early days before becoming one of the worlds most successful magicians.(13:39) David tells some of the stories behind his greatest illusions, like the Statue of Liberty vanishing (49:50), goes deep ...
Adam Schiff on 'Midnight In Washington'
Oct 23 • 01:18:22
Today's episode is taken from a live conversation between Larry Wilmore and representative Adam Schiff for 'Live Talks Los Angeles.' The two discuss Schiff's new book 'Midnight in Washington,' being in the Capitol during the attacks in January, and much more....
Jay Ellis and Walter Thompson-Hernández on Giving A Voice to Young Incarcerated Writers
Oct 17 • 01:11:51
Larry weighs in on Kyrie Irving refusing to get vaccinated (1:00) before he is joined by 'Insecure' star Jay Ellis and New York Times writer Walter Thompson-Hernández to talk about their new podcast with Lemonada Media, 'Written Off,' which features work from young writers who developed their voice while incarcerated (18:29). Plus, Ellis gives some hints on what's to come ...
Joshua Jay on 'How Magicians Think'
Oct 2 • 01:09:44
Larry weighs in on NBA players and their stances on COVID-19 vaccinations (01:00). Later, Larry is joined by magician and author Joshua Jay to discuss his latest book, 'How Magicians Think,' and how many magicians get into magic for the same reasons but stay for different ones (14:00). Later, they talk about the ethics of a magician and diversity in the world of magic, and...
Craig Whitlock on America's Failure in Afghanistan
Sep 25 • 01:24:35
The Life and Legacy of Muhammad Ali With Ken Burns
Sep 19 • 01:26:30
Larry weighs in on pandemic fatigue, his issue with voter ID laws being called racist, and the Texas abortion ban (01:00). Later, Ken Burns joins Larry to discuss his latest documentary, 'Muhammad Ali' (25:00). They talk about the making of the documentary, Ali's relationship with the Nation of Islam, and much more....
Tarana Burke on 'Unbound' and Creating the Me Too Movement
Sep 11 • 01:30:40
Larry weighs in on the twentieth anniversary of the 9/11 attacks and more to open the show (01:00). Later, he is joined by creator of the Me Too Movement Tarana Burke to discuss her new book 'Unbound: My Story of Liberation and the Birth of the Me Too Movement,' as well as the difference between self esteem and self worth, and much more (20:00)....
LZ Granderson Being A Black, Gay Man, Progress in the Sports World, and Athlete Activism
Jul 24 • 01:30:02
Larry is joined by the LA Times Sports and Culture columnist LZ Granderson to talk about becoming comfortable with his identity as a Black gay man (8:26), NFL player Carl Nassib coming out as gay and the other progress the sports world is making to be more inclusive (47:24), and how he feels about athlete activism (1:07:29)....