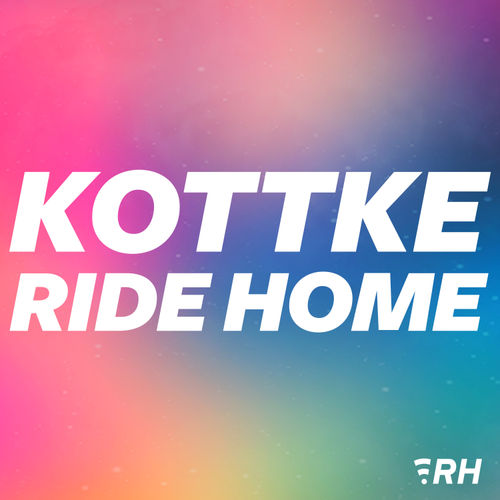 Kottke Ride Home
News • Society-and-culture
The official podcast of Kottke.org. In just 15 minutes, the coolest stuff that happened in the world today. Science, progress, life-hacks, memes, exciting art and hope. The antidote to depressing headlines. Smart stuff in podcast form. Cool news, as a service.
Popular episodes
Wed. 12/01 - Duolingo's Bizarre Sentences
Dec 1 • 16:55
Why does Duolingo use such weird and sometimes deeply relatable phrases to teach its users new languages? Plus, the real science behind the much-hyped "first living robots that can now reproduce." And the origins of the twelve days of Christmas. Like, the actual days. Not the song about turtle doves....
Tue. 11/30 - How Mark Twain Invented the Bra Clasp
Nov 30 • 16:38
How Mark Twain invented the bra clasp. Kinda. Plus, beavers doing the work of million dollar machines to restore land and prevent wildfires––in a fraction of the time and for a fraction of the cost. And a new twist has emerged in the McDonald's milkshake machine lawsuit saga. ...
Mon. 11/29 - Canada's Emergency Maple Syrup Reserves
Nov 29 • 14:56
Are influencers' aesthetic choices for their kids threatening their brain development? Probably not, but the science behind it is kind of interesting. Plus, pub-goers in England got stranded for three days with an Oasis tribute band. And there's a maple syrup shortage, but don't worry, Canada was ready for it with their emergency maple syrup reserves....
Wed. 11/24 - Made-Up Words For Very Real Feelings
Nov 24 • 16:50
How does the CIA go about recruiting young people who are increasingly skeptical of government institutions and also not exactly covert about their lives on social media? Plus, a dictionary of fake words for very real feelings. And are we cautiously eyeing an end in sight for the supply chain issues? Kind of....
Tue. 11/23 - Why Do We Say "Sh*t Hit the Fan"?
Nov 23 • 16:20
Why we rely on idioms for communication and how some of the more nonsensical ones entered our lexicon. Plus, a company working on a sort of 10,000 g slingshot to launch satellites into space with zero emissions just pulled off their first successful test launch. And some reflections on reconnecting with the Earth in this era of the climate emergency, without appropriating ...
Mon. 11/22 - Oxygen From Moon Rocks Could Sustain Humanity for 100,000 Years
Nov 22 • 17:32
Could lunar explorers of the future be sucking air out of moon rocks? Could all of us? Plus, a device made from household objects could expand the world's access to vaccines. And the psychological case for decorating for the holidays as early as you want. ...
Fri. 11/19 - The Fake 2000s Yo-Yo Career of 'What We Do In the Shadows' Mark Proksch
Nov 19 • 16:40
A brief history of takeout and delivery. Plus, a What We Do In The Shadows actor's previous career as an award-winning yo-yo-er. And the abomination that is RanchNog....
Thu. 11/18 - AMC Will Soon Deliver Popcorn to Your Home
Nov 18 • 15:28
Will we soon have a new Planet Nine? The first human trial for an Alzheimer's nasal vaccine is about to be under way. And Papa John's has changed their name. Technically. And AMC Theaters has said, "movies, who? Never heard of her. We're a popcorn company now."...
Wed. 11/17 - The 1930s "Streaming" Music Service from Seattle
Nov 17 • 14:39
The progenitors to on-demand streaming music, including the multiphone in the 1950s American west and the Théâtrophone in 1880s Paris. Plus, new findings about Jupiter's Great Red Spot from NASA's Juno spacecraft. And the woman whose own immune system seems to have effectively cured her of HIV....
Tue. 11/16 - Pastel Pavement to Appeal to Women Drivers & More Tired Ideas From Auto History
Nov 16 • 17:24
The US finally has a national recycling strategy as of yesterday. Plus, what is the ultimate song to listen to at any time of the day or night? Scientists figured it out. The gendered history of car and road design. And the giant Reese's cup "pie" that sold out in mere minutes. ...