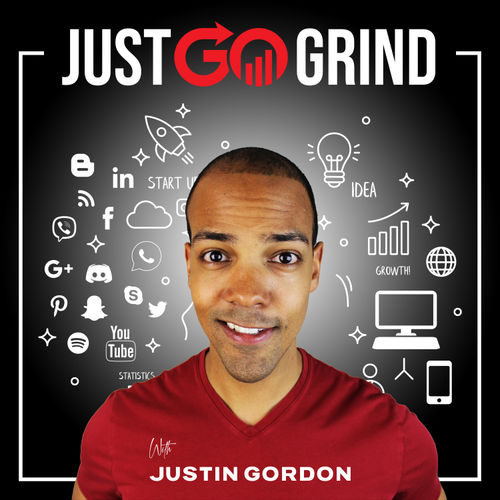 Just Go Grind with Justin Gordon
Business
On The Just Go Grind Podcast, host Justin Gordon, an entrepreneur, USC MBA alum and Director of Marketing and Community at Vitalize Venture Group, interviews entrepreneurs, CEOs, investors, and other go-getters to pull out the tips, tactics, strategies, and insights to help you build your company.
Popular episodes
#309: Annelise Hillmann, Co-Founder and CEO of FRONTMAN, on Reimagining The Men's Grooming Industry, Cultivating Authenticity in Brand Building, and Designing for Behavior Change
Dec 6 • 26:27
Annelise Hillmann is the co-founder of FRONTMAN, the Gen Z self-care brand for men creating a new grooming category. A story teller at heart, Annelise is an art director and designer focusing on brand identity and marketing strategy for early stage companies. She has a Harvard degree in economics and psychology and lives in Brooklyn. She co-founded FRONTMAN with Nick Bunn ...
#308: Joseph Heller, Founder and CEO of The/Studio, on Growing a Successful B2B Marketplace for Product Customization and Creating Community Around Building Better Businesses
Nov 29 • 26:15
Joseph Heller, a true entrepreneur at heart, is the Founder and CEO of The/Studio, an on-demand manufacturing platform which is also now the parent company of Supplied, creating a network of empowered entrepreneurs through their wholesale platform for small businesses. While at UC Berkeley, Joseph raised a seed round for an e-commerce platform which sparked his early inter...
#307: David Perry, CEO and Co-Founder of E-Commerce Partnership Network Carro, on Overcoming Friction, Thinking Globally, Gamification, and Leveling Up from Entrepreneur to Innovator
Nov 22 • 41:33
David Perry is the CEO and Co-Founder of Carro, a new e-commerce partnership network that over 30K Shopify brands have joined, providing over 320M visitors a month. GetCarro.com helps brands gain attention, sales, and new customers by partnering with other brands in the network....
#306: Richard Mensah, Co-Founder of EllisX, on Pioneering Authentic Marketing for Tech Startups
Nov 15 • 25:36
Richard Mensah is the Co-Founder of EllisX, which is pioneering authentic marketing, a new market category that allows companies to increase brand awareness without hassle. Their infrastructure empowers creators and writers to connect with the best startup/tech stories. Originally from Ghana, Richard previously founded 3 startups in the Media, Adtech and HR industries, whi...
#305: Matt Jung, CEO of the Luxury Cookie Company Last Crumb, on Unique Brand Development, Creating an Organic Flywheel, and Managing Supply and Demand for an Exclusive Product
Nov 8 • 28:32
Matt Jung is an entrepreneur and generalist with over a decade of experience founding businesses and leading teams with a focus on business development, operations, marketing and brand strategy in both startup, incubator/accelerator, and corporate environments. Currently Matt is the CEO of Last Crumb, the world's first ultra-premium luxury cookie brand. Their nostalgic fla...
#304: Alex Simon, Co-Founder of Budget Based Travel Company Elude, on Innovating in an Established Industry and the Power of Partnerships
Nov 1 • 27:40
Alex Simon is the Co-Founder and CEO of Elude, a budget based travel company getting you out of your office and around the world. Alex previously worked as an investment banker at Morgan Stanley and Deutsche Bank, a career he left in 2018 to turn travel hacking into his full-time gig as an entrepreneur with his co-founder, Frankie Scerbo. Elude is a travel search engine & ...
#303: Rachel Sanders, Co-Founder and CEO of Rootine, a Precision Nutrition Startup Empowering Individuals to Optimize Their Wellness, on the Value of Personalized Health Solutions, Diversity in Investors, and Hiring for Culture over Expertise
Oct 25 • 25:03
Rachel Sanders is the Co-Founder and CEO of Rootine, a wellness company working to optimize its users' health and daily performance with precision nutrition....
#302: Nicholas Hinrichsen on How Clutch turns Credit Unions into FinTech companies, Raising from a16z, and Hiring Talent in LATAM
Oct 18 • 26:49
Nicholas Hinrichsen is the co-founder of Clutch, a SaaS company working to turn credit unions into FinTechs, while helping you to refinance your auto loan and save thousands in minutes. Nicholas used to be an avid golfer, playing on Germany's national team for four years. After finishing his master's degree in Germany, he worked at Bain & Company and Merrill Lynch before h...
#301: Introducing Vitalize Angels: Angel Investing for Everyone (Gale Wilkinson Interview)
Sep 23 • 13:07
Vitalize Angels offers "angel investing for everyone" and in this special episode of the Just Go Grind podcast, Gale Wilkinson and Justin Gordon take you behind the scenes to tell you how they, and the Vitalize team, did it....
#300: Zach Evans and Justin Gordon Reflect on Entrepreneurial Strategy, Growth, and Networking to Build Their Online Businesses
Jul 19 • 01:20:02
Zach Evans, my best friend since high school, is a pianist, producer, and kick-ass entrepreneur who turned his passion for piano into a business that's done more than $1 million in revenue in 3 years. He's been featured on CBS, Yahoo, USA Today, and has amassed more than 10 million views on YouTube. Zach now lives in Los Angeles and, with the extra time his lifestyle busin...