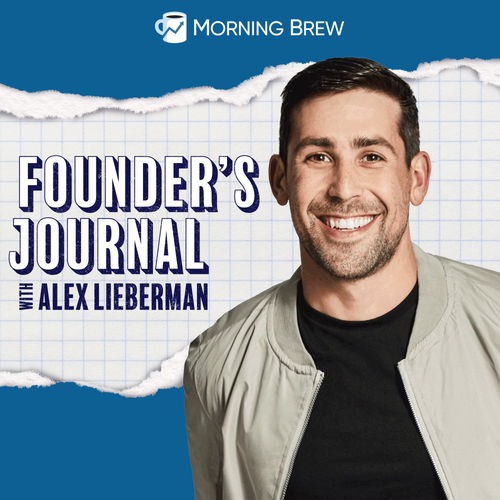 Founder's Journal
Business
Hi, I'm Alex Lieberman, co-founder and Executive Chairman of Morning Brew. Founder's Journal is my personal audio diary where I give you, the business builder, the tools you need to think better, in order to build better, whether that's building a business, a team, or a new product.
Popular episodes
Painkiller or Vitamin: Which Is Needed For Your Business?
Dec 6 • 09:15
In this episode, I discuss the importance of being a painkiller, not a vitamin in business....
The Leadership Benefits of Transparency
Dec 3 • 14:47
In this episode, I discuss why implementing the right amount of transparency in a company builds trust and maximizes employees' impact on customers....
Winning In Your Career As A Jack Of All Trades
Dec 1 • 11:36
Some of the greatest performers of modern society also have the greatest range. In this episode, I breakdown why possessing a broad skill set can help boost your career development. ...
How to Speak with Radical Candor
Nov 29 • 16:10
Imagine how well companies would be run if everyone understood what people thought of them and how they could be doing their job better to help the business grow. In this episode, I lay out the challenges and benefits of radical candor....
The Power of Perspective and Prioritizing Family & Friends (Classic)
Nov 26 • 16:01
Let this classic episode serve as a reminder to us all to prioritize friends, family and the power of perspective. Without perspective, you can get lost in the day-to-day grind without a reminder of what it is that you're grinding for. I have found one of the healthiest ways to strive is through experiences that create perspective....
How to Crush 1:1 Meetings
Nov 24 • 10:41
It's one of the only times in a week where you have the undivided attention of your boss or direct report. In this episode, I breakdown why 1:1's are key to a successful career....
Lessons from ConstitutionDAO
Nov 22 • 10:56
To be a successful careerist, you need to keep your finger on the pulse of technologies that are changing the world. In this episode, I breakdown the biggest takeaways from ConstitutionDAO and what it could mean for the future....
Mental Models #6: The Power of Leverage
Nov 19 • 09:23
In this episode, I break down the different types of leverage you need to understand to make smart career decisions....
Mental Models #5: How To Prioritize Time & Tasks To Enhance Your Work (Classic)
Nov 19 • 14:09
I've always been fascinated by great workers and their ability to prioritize their work effectively. Today, I take you though the prioritization strategies of a myriad of professionals that you can test and add to your professional toolkit. ...
Mental Models #4: Second Order Thinking - Considering The Unexpected
Nov 17 • 08:12
This week's miniseries theme is Mental Models. In this episode, I break down why every great entrepreneur, investor, or employee must learn how to become a great second order thinker....