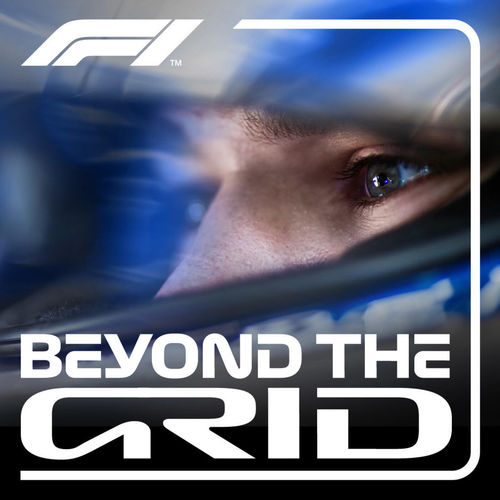 F1: Beyond The Grid
Sports • Leisure
Beyond The Grid, delivers great stories, fresh insight and amazing anecdotes from the world of F1. Each week Tom Clarkson brings you in-depth, personal conversations with the biggest names in the sport, from current superstar drivers and leading team bosses to legendary figures from history.
Popular episodes
159: Pedro Diniz on fear, his fiery escape, and F1 pressure
Dec 1 • 50:11
Fear is something F1 drivers don't often admit to feeling. Pedro Diniz does. In his 98 Grands Prix during the 1990s and into 2000, the Brazilian experienced the highs of hard earned top-six points finishes and, on his day, was a match for teammates Jean Alesi and Damon Hill. But, as he tells Tom Clarkson in a rare interview, lucky escapes from a fireball in Argentina and a...
158: Fernando Alonso on Schumacher, Hamilton and title number 3
Nov 24 • 45:40
He's back on the F1 podium with Alpine, but he still wants so much more. Fernando Alonso has his sights set on silverware in 2022 and beyond. In this exclusive episode, the double world champion opens up on his past, present and future with Tom Clarkson. He explains why racing Michael Schumacher was so special, why he 'wasn't ready' for their fierce championship fights in ...
157: Danny Sullivan: from taxi driver to F1 points and Indy glory
Nov 17 • 54:12
How does a young man from Kentucky go from driving a New York taxi to racing in Formula 1 and winning the Indy 500? Danny Sullivan's extraordinary story starts with a childhood obsession with F1 books. It sparked a dream of becoming a racing driver, and he moved to Europe to make it come true. Incredibly, Danny lived with the legendary team boss Ken Tyrrell, who gave him a...
156: Valtteri Bottas on pride, pressure and frustration at Mercedes
Nov 10 • 49:01
Five seasons, one unfulfilled dream. Valtteri Bottas will leave Mercedes as a race winner whose brilliant performances contributed to a Constructors Championship quadruple. Yet, as he tells Tom Clarkson, he'll look back on his years in silver and black with some dissatisfaction. How did Valtteri's determination to prove himself, the constant uncertainty about his F1 future...
155: Tommy Byrne: Senna's early rival, F1's lost champion?
Nov 3 • 01:04:33
Tommy Byrne's talent in a racing car was likened to that of Ayrton Senna and Michael Schumacher. To those who watched him closely, he was a champion in the making. Why, then, did his Formula 1 career last just five races in an uncompetitive car? Tommy tells Tom Clarkson the story of the impressive wins in junior categories – including one in Ayrton Senna's car – which got ...
154: Jean-Eric Vergne on learning from F1 regrets
Oct 27 • 59:50
Matching Daniel Ricciardo in the same car and twice finishing 6th in a Grand Prix is a Formula 1 record to be proud of. But looking back at his three seasons driving for midfield team Scuderia Toro Rosso, Jean-Eric Vergne thinks he could – and should – have done better. In an honest and unflinchingly self-critical interview, Vergne tells Tom Clarkson how his mentality and ...
153: Daniel Ricciardo on winning with McLaren
Oct 20 • 01:00:43
New team, new trophies, new targets: a lot's changed in Daniel Ricciardo's mind since his first Beyond The Grid interview in 2019. But one thing has stayed the same: his will to win. Daniel relives the 'relief and happiness' brought by his Monza victory and explains why it meant so much to him and his McLaren teammates. The 'bitter' feelings of the past are gone, he says, ...
152: Lawrence Stroll's Aston masterplan
Oct 13 • 45:25
Aston Martin is 'the next big thing to happen in Formula 1'. So says Lawrence Stroll, who's brought the historic brand back into the sport. Stroll first entered the F1 world as a clothing sponsor for Lotus in the 90s before teaming up with Ferrari and Michael Schumacher. A life-long lover of beautiful cars, he tells Tom Clarkson what two things convinced him to buy the For...
151: Emanuele Pirro on racing for Benetton, developing McLaren's MP4/4, and work as a Driver Steward
Oct 6 • 01:25:40
In his long career, Emanuele Pirro has experienced everything motorsport can throw at a driver. The Italian raced for Benetton while also helping to develop Prost and Senna's mighty McLaren Honda MP4/4 in the 1980s. Later, he battled soaking conditions at the infamous 1991 Australian GP and won Le Mans five times. Emanuele has enjoyed an incredible career, and has great st...
150: Race strategy secrets with Ruth Buscombe
Sep 29 • 01:07:54
She's the unseen hand that helps guide Kimi Raikkonen and Antonio Giovinazzi's race fortunes - Ruth Buscombe, head of race strategy at Alfa Romeo, joins Beyond the Grid this week to dissect how race strategists operate, how they try and plan and react to wild races like Sochi, what a race-turning strategy call feels like - and also on championing diversity and how her own ...