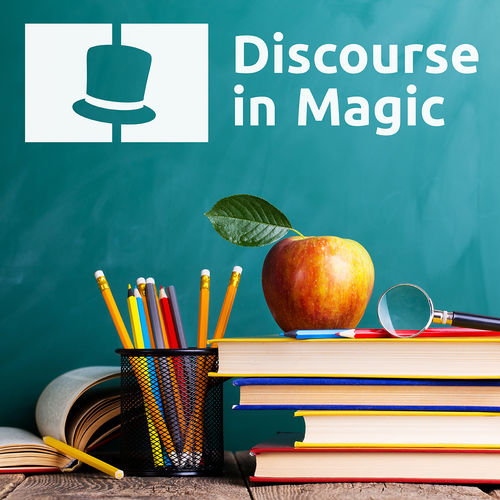 Discourse in Magic
Arts
Jonah Babins from Discourse in Magic tackles magic's hardest issues, theories, philosophies, discussion, and more to help you explore. He jumps into all sorts of magic, and resources, and most importantly actionable tips to help better the art and become a killer performer!
Popular episodes
Magic Appetizer: Top 3 Magic Theory Books
Dec 2 • 09:23
This week Jonah shares with you his top three picks for magic theory books that will make the biggest impact on your magic....
Magic Appetizer: Grow Your Magic Business From Five To Six Figures
Nov 25 • 08:04
This week Jonah shares with you three tips on how to transform your five figure magic hustle into a six figure magic career....
Preparing For Your Magic Comeback with Ben Train
Nov 18 • 04:42
This week Ben Train fills in for Jonah and offers up some tips on what he is doing to overcome his fear of returning to the stage after so much time away....
Magic Appetizer: Unconventional.fun 5
Nov 11 • 23:29
Jonah and Ben are back for one more time to talk about the fifth, and final, UnCoventional.fun virtual 8-bit magic convention....
The History of Magic with Professor Richard Wiseman
Nov 4 • 01:22:24
This week Jonah connects with professor Richard Wiseman to discuss co-authoring his book with David Copperfield, debunking supernatural claims, and the ethical responsibilities that magicians have with their audiences....
Magic Appetizer: Getting Gigs
Oct 28 • 14:00
This week Jonah shares with you three tips to help you get better at booking gigs. Over the course of the last two years Jonah has helped about sixty magicians book virtual gigs and over the past few months he's helped a couple dozen magicians to book real-world gigs. Jonah will walk you through the three biggest problems that magicians struggle with when booking gigs....
Teaching Magic Theatre with Jeff McBride
Oct 21 • 29:09
This week Jonah connects with Jeff McBride to talk all about the theatre of magic, the phases that every magician might go through, and his thoughts on the growth of virtual magic shows....
Reinventing Your Magic with Giancarlo Bernini
Oct 14 • 01:04:03
This week Jonah connects with Giancarlo Bernini to talk all about his journey navigating the pandemic so soon after his major breakout in magic on Fool Us and his innovations in bringing magic to cryptocurrency NFTs....
Coin Magic & The Suspension of Belief with Tyler Rabbit
Oct 7 • 01:45:56
This week Jonah connects with Tyler Rabbit to talk all about his amazing work with coin magic and his thoughts on the suspension of belief and the rise of exposure videos....
Truth & Deception with Colin McLeod
Sep 30 • 01:27:40
This week Jonah connects with Colin McLeod to talk about his return to his live show at the Mirage in Vegas. Together they talk about his journey from comedy to magic, and the very different goals they each have with the audience, and his thoughts on making sure that his brand of mentalism is being presented to the audience in an entertaining but also ethical way....