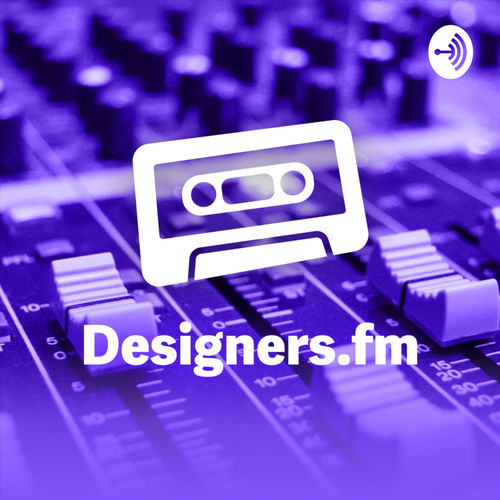 Designers.fm
Arts
Designers.fm is a podcast about design, designers and everything in between. Everyone should be heard, regardless of race, gender, location or experience. Our guests are designers and people that deal with design in their lives. Expect to be moved, entertained, and surprised.
Popular episodes
#19 · Alexa Herasimchuk
Nov 16 • 54:01
Time for another interview. I interviewed Alexa Herasimchuk, the only second generation product designer (that I know of). She's a community manager and product designer from the Bay Area, currently working at Zendesk and running a YouTube account about her life as a designer in San Francisco. She shares stories about interview prep, career goals, and much more....
#18 · Freelancing 101
Nov 10 • 55:34
On this show we talk al lot about starting your own business, go build stuff, be creative. That seems like a good thing to do in these times, but how do you start freelancing? How do you define your rate? How do you get clients? To answer those questions I sat down with two amazing freelancers: Frederique Matti (https://frederiquematti.com/) and Stephen O'Neill (http://ste...
#17 · The Future of Work
Oct 30 • 58:41
Pieter Levels (Nomadlist, RemoteOK) predicts an exodus from traditional tech hubs like Silicon Valley. Is this part of the third correction? What were the first and second corrections? And what does this mean for the future of work? Have a listen to Andrei, Pieter and me and let us know what YOU think....
#16 · Prototyping
Oct 19 • 01:01:18
Are there any reasons not to prototype anymore? Are static screens and flows still enough, especially with tools like Framer and Figma, making it a lot easier than before....
#15 · What's Wrong with Design? About Products
Oct 12 • 40:33
In the final part of our series, we discuss what's wrong with the products we built, why they get funding, and how to break that cycle....
#14 · What's Wrong With Design? About People
Oct 5 • 40:36
This is the second part of our series: What's Wrong with Design? Today it's all about people. What's wrong with Product Managers, Engineers, and Designers?...
#13 · What's Wrong With Design? About Process
Sep 25 • 36:29
What is wrong with design? And what are the areas for improvement? In the first of three episodes we tackle what's wrong with process. Everything is agile and lean nowadays. Is this really the best way to build products? Tune in and have a listen!...
#12 · What Happens After 40?
Sep 14 • 13:51
There seem to be a lot of (senior) designers out there that might get stuck. They don't know where to take their career? Is this a midlife crisis? What happens to them when they hit 40? What comes after? Tune in to find out. Spoiler alert: the answer is not as depressive as you might think....
#11 · Designers. Start. Your. Business.
Sep 7 • 13:50
There are a lot of business founders with an engineering background, but not a lot with a design background. I asked Andrei Herasimchuk why he thinks this is, and how this might change in the future. Tune in, have a listen and let's discuss on Twitter: @designers_fm If you like our podcast, please leave a review on iTunes or just tell your friends about it. Don't forget to...
#10 · Designer Job Titles
Aug 31 • 19:55
A new format: 20 mins discussion on a single topic. So you don't need to listen for a full hour!...