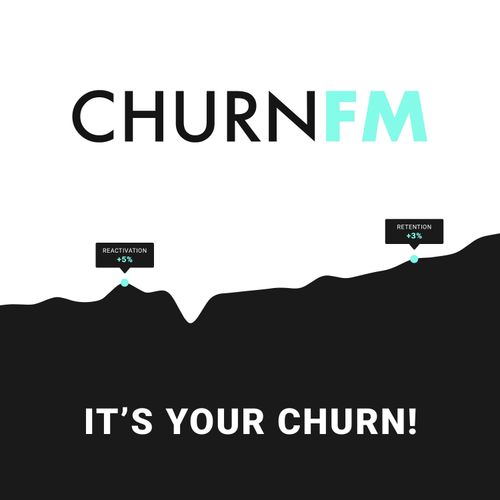 CHURN.FM
Business • Technology
CHURN.FM is the podcast for subscription economy pros. Every Wednesday we hear how the world's fastest growing companies are tackling churn and using retention & engagement to fuel their growth.
Popular episodes
EP 142 | Dave Jackson (TheCustomer.Co) The 7 principles of Customer Success
Dec 1 • 39:00
Today on the show we have Dave Jackson, founder, and CEO of TheCustomer.Co, and author of the book Customer-led growth. ...
EP 141 | Ryan Glasgow (Sprig) - Why churn and retention always comes back to your user onboarding experience and how to improve it
Nov 24 • 36:17
Today on the show we have Ryan Glasgow, CEO and founder of Sprig....
EP 140 | Puneet Kataria (CustomerSuccessBox) - The moving pieces of a successful customer success stack.
Nov 17 • 38:12
EP 139 | Harini Gokul (AWS) - Baking Customer Success into your company's DNA from day 1.
Nov 10 • 28:50
Today on the show we have Harini Gokul, Chief Customer Officer at AWS....
EP 138 | Gareth Drabble - How Contentsquare use Health Scoring to predict adoption and retention
Nov 3 • 27:11
Today on the show we have Gareth Drabble, Director of Customer Success, Northern Europe at Contentsquare...
EP 137 | Suresh Shankar (Crayon Data) - How to prevent churn with your enterprise customers
Oct 27 • 35:11
Today on the show we have Suresh Sankar, Founder & CEO of Crayon Data....
EP 136 | Scott Singerman - Inside Mixpanel's retention driving partnerships programs.
Oct 20 • 40:36
Today on the show we have Scott Singerman, VP of Global Partnerships at Mixpanel. ...
EP 135 | Shreesha Ramdas (Strikedeck) - Transform your company's customer success mindset from a cost centre to a growth centre
Oct 13 • 31:39
Today on the show we have Shreesha Ramdas, SVP & GM at Strikedeck....
EP 134 | Ryanne Doumet - How PandaDoc scaled their high touch customer success model as the company scaled.
Oct 6 • 27:44
Today on the show we have Ryanne Doumet, Customer Success Manager at PandaDoc....
EP 133 | Basel Fakhoury (User Interviews) - Transitioning from a transactional to a subscription pricing model: How it affects customer retention.
Sep 29 • 28:13
Today on the show we have Basel Fakhoury, CEO & Co-founder of User Interviews....