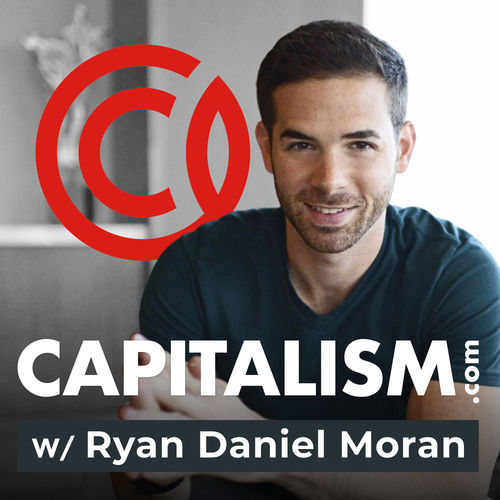 Capitalism.com with Ryan Daniel Moran
Business
The Capitalism.com Podcast Network presents content for those who are bold enough create change, pursue wealth, find freedom, take control of their health, and reach their full potential.
Popular episodes
1 Question To Overcome Analysis Paralysis When Building A 7-Figure Brand
Nov 29 • 27:02
What if God himself told you that you would win? What if you KNEW for certain that you were on the right track and all of your challenges were temporary obstacles on the way to your success?...
When Is The Right Time To Exit?
Nov 24 • 17:47
Today we are leaking a call from The One Percent with Leslie, a member who was really debating this question of when to sell, when to exit from her company and move on to the next thing....
Ushering in The Era of Abundance | Capitalism Conference Keynote
Nov 22 • 57:35
Entrepreneurs love to talk about living in a world of abundance but the fact is most of them got into business for scarce reasons....
How To Cast A Vision, Raise Money, And Build A Rock Star Team w/ Bill Glaser
Nov 15 • 59:07
Bill Glaser is a serial entrepreneur with several successful exits. Today he is the co-founder of Outstanding Foods, a healthy snack food company, and he is not shy about his plan to grow this brand beyond $100M....
What Separates 8-Figure Entrepreneurs From Those Who Give Up w/ Jason Franciosa
Nov 10 • 57:04
Jason Franciosa is the owner of the wildly successful fitness brand Element.26 that sells functional gear for weightlifters....
Hyperinflation: How To Plan For The Economic Armageddon
Nov 8 • 26:34
There is a lot of economic uncertainty in the air right now and fear of hyperinflation....
DeFi Deep Dive: Understanding How Tokens Actually Work
Nov 1 • 01:01:36
This week we are going deep down the DeFi crypto rabbithole with Adam Bertram, a 20-year Veteran of IT, a self-described "crypto geek", and consultant....
Lessons Learned Building & Selling A $6M Brand w/ Drs. Travis & Jenna Zigler
Oct 25 • 48:26
This week we are leaking a talk from the 2021 Capitalism Conference....
What I've Learned In The DeFi Rabbithole
Oct 18 • 22:47
Ryan has been going deep down the DeFi (decentralized finance) rabbithole for a few months now and he's learned a lot. DeFi is the use of cryptocurrencies to provide liquidity to other people and as a result gain passive income. The primary question is this: how is this expansion of the crypto market going to effect business? Ryan is curious about the future of bitcoin ...
Ryan Coisson: Finding The Most Profitable Opportunities In An Ever-Changing World
Oct 11 • 58:34
Ryan has been trading options as his side hustle for years, and he's starting to get a lot better at it thanks to his investing mentor, Ryan Coisson....