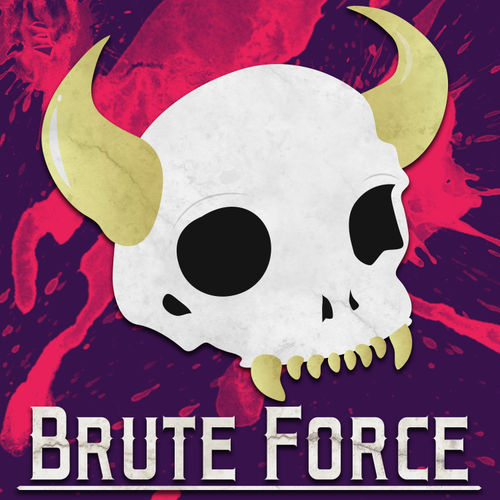 Brute Force
Arts
Brute Force is a real-play comedic RPG podcast blended with in-character narration. We play a campaign of FATE Core (we started with World of Darkness) set in the high fantasy world of Eorith. The adventurers are a party of monsters tasked with saving a world that barely tolerates their existence.
Popular episodes
Brute Force – Episode 131 – How Thick Is An Island?
Nov 23 • 01:05:16
Brute Force – Episode 130 – The Fantastical Machinations of Yanov Boulderbelt
Nov 10 • 01:02:21
The Brute Force gear up to save Vrymm from its impending topsy-turviness. What are you talking about? Of course that's a word. ...
Brute Force – Episode 129 – Sharkgirlbossing
Oct 25 • 01:08:29
Hollis finds herself in dire straits, and struggles valiantly to send word of her struggles to her friends....
Brute Force – Episode 128 – I'm a Human Woman
Oct 11 • 01:14:35
Leland awakens from his concussively imposed nap just in time for Mort and Cammy to arrive topside of Vrymm. The crew heads to the castle to sleuth out what could have perforated its outer wall so cleanly....
Brute Force – Episode 127 – Crystal Clear
Sep 25 • 01:08:32
Mort and Cammy reconvene at the base of the crystal tower and hire a new administrative assistant/murder machine....
Brute Force – Episode 126 – Gatecrashers
Sep 11 • 01:18:02
The Brute Force search the tower beneath Vrymm and learn more about the mysterious crystal structures within....
Brute Force – Episode 125 – Interview with an Aspiring Vampire
Aug 29 • 01:06:01
Ambushed after returning from the plane of eternal winter, the Brute Force look to fight off their attackers and win some answers for the trouble....
Brute Force – Episode 124 – Huracán Muerta
Aug 15 • 01:05:05
The Brute Force attempts to flee the icy plane of Fimbulwinter to the assumed safety of their own plane. Ominous wording....
Brute Force – Episode 123 – Fimbulwinter
Jul 30 • 01:02:05
The Brute Force find themselves in a seemingly endless field of snow, tasked with bringing back anything they can find. They might need deeper pockets....
Brute Force – Episode 122 – A Tenuous Partnership
Jul 15 • 01:11:11
When a group of scientists enlist the help of the Brute Force to visit new lands in untouched dimensions, can the crew ignore their nagging suspicions in the name of adventure?...