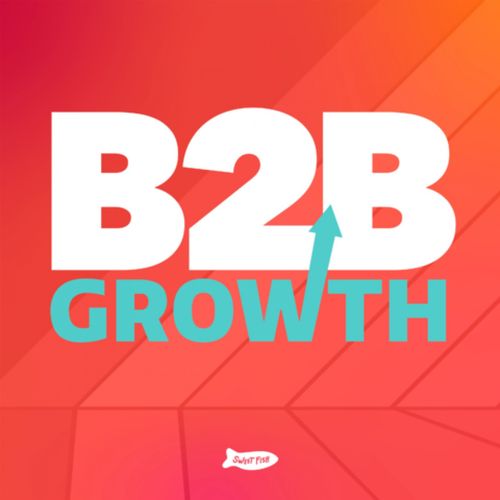 B2B Growth: Your Daily B2B Marketing Podcast
Business
A daily podcast for B2B marketers. 4 million downloads and over 2,000 episodes. Co-hosted by a braintrust of people that would never use a word like braintrust.
Popular episodes
Brand Vs Branding - The Debate with Sam Moss & Dan Sanchez
Nov 30 • 30:22
In this episode, Dan Sanchez talks with Sam Moss, the co-founder of 1Click Agency about the difference between brand, branding, and what it takes to see success....
From Transactional Copy to Transformational Content w/ Rita Richa
Nov 23 • 23:14
In this Episode, Benji sits down with Rita Richa, producer at Sweetfish to break down the much-needed move away from transactional copy....
The Next Wave Of Content Marketing for B2B w/Joe Pulizzi
Nov 18 • 44:40
In this episode, Dan Sanchez talks with Joe Pulizzi is the founder of The Tilt, the Content Marketing Institute, and is the author of Content Inc. ...
Cultivate an Evergreen Brand that Matches the Pace of Innovation w/ Aaron Cort
Nov 16 • 20:41
The 30/30/30 Plan and Introducing a New Co-Host: Benji Block
Nov 11 • 11:21
In this episode, Dan Sanchez talks with Benji Block, the newest addition the Sweetfish Team and now Host of B2B Growth....
How Dave Ramsey Consolidated Over a Dozen Brands & Websites
Nov 9 • 45:02
Transitioning From Paid to Earned/Owned Media w/Gaetano DiNardi
Nov 4 • 40:36
In this episode, Dan Sanchez talks with Gaetano DiNardi who is the former Head of Growth and Demand Gen at Nextiva about the status and future of paid, owned, and earned media for B2B marketing teams....
Is Your Marketing Toxic? Find Out if It's Hurting People & Your Bottom Line w/Ethan Beute
Nov 2 • 48:33
How to Recruit Better Marketing Talent (for NonRecruiters) w/Dan Sanchez
Oct 29 • 14:12
How to Design a New Category
Oct 28 • 31:57