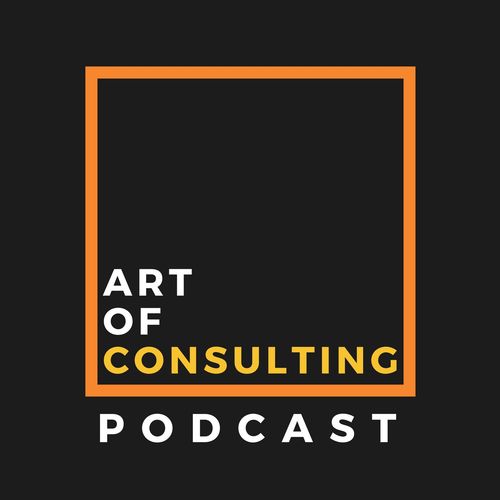 Art of Consulting Podcast
Business • Technology
You'll learn our top strategies to improve your career, confidence, lifestyle from us and other crazy successful seasoned consultants in IT and Management. Engage in the conversation as we discuss everything that brought us longevity and success over the years in the IT consulting industry.
Popular episodes
160 | Career Transitions, Bookkeeping and Art with Serah Blackstone-Fredricks
Oct 8 • 42:45
In this episode, we have a special guest, Serah Blackstone-Fredricks. Serah is the CEO and Founder of Books In Harmony. She is a bookkeeper and an artist as well. You will hear about how Serah transitioned from art to bookkeeping and now, doing both! ...
159 | How To Accept Yourself
Oct 1 • 15:21
In this episode, Andy shares valuable insight about what it truly means to accept yourself and gave steps on how to become more empathetic with yourself. As you tune in now, make sure to take down notes and apply these practical strategies that will impact your journey in becoming your best version....
158 | Three Ways of Measuring Reliability
Sep 24 • 13:56
In this episode, we have Andy share with us three ways of measuring reliability. This will help you identify opportunities and may also introduce more efficient solutions within the organizations. Gain helpful insights on this as you listen in now....
157 | Maximize Time with Alexis Haselberger
Sep 17 • 50:03
In this episode, Andy is with Alexis Haselberger who is a productivity expert in Alexis Haselberger Coaching and Consulting. They talked about how productivity is part of our life as human beings and it is important to look into how we can maximize our time and focus especially in a work from home, as well as a hybrid work environment set up....
156 | Why Familiarity & Contentment May Create Complacency
Sep 10 • 13:48
In this episode, Andy shares how complacency affects our performance and how it gets into us. You will learn about tips you can do when you see yourself getting into the complacency state and how to keep yourself from heading towards it....
155 | Respecting Small Moments of Opportunities
Sep 3 • 10:36
In this episode, we have Andy talk about how to recognize small opportunities and use them wisely. Tune in now and you will learn how to look at it and see its value to help you decide how to use it to your advantage....
154 | What Archie Comics Taught Me About Goal Setting
Aug 27 • 09:07
In this episode, Andy shares an insight he learned from Archie Comic Books. He talks about how we develop the stories in between the pictures to get to the next picture and eventually finishing the whole story of the comic book. He compares that to authoring our own story between the goals we want to achieve and being intentional about it....
153 | Managing Time and Space
Aug 20 • 12:09
In this episode, Andy talks about properly managing your time and space in your work to ensure success. He shares tips and examples on how to do this and keep your time and space appropriately intended to the work ahead and greatly help you succeed....
152 | Accountability & Responsiblity
Aug 13 • 12:19
In this episode, Andy talks about the two things that will facilitate your growth in your personal and professional development, accountability and responsibility. You will learn how to allow yourself to be more accountable, and execute your responsibilities. ...
151 | Are We In the Answer or Question Business
Aug 6 • 12:35
In this episode, Andy shares insights about being in the answer business and being in the question business. As a consultant, there are traits that are beneficial as they build up your soft skills as well as your relationship with clients....