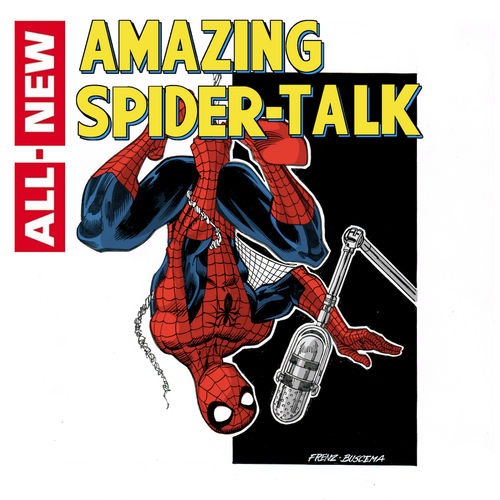 Amazing Spider-Talk: A Spider-Man Podcast
Arts • Leisure
Two fans and collectors (Dan Gvozden and Mark Ginocchio) discuss and celebrate the past, present, and future of Spider-Man comic books, films, video games, and toys.
Popular episodes
"All of the Marvels" With Author Douglas Wolk
Nov 22 • 01:01:45
Sinister War #2 – REVIEW
Nov 8 • 23:16
This ain't a war, it's a god damn octopus arms race!...
The HOBGOBLIN!! (Part 1) (Season 5, Episode 7)
Nov 2 • 01:00:41
"Well, Norman Osborn may have died, but his legacy– His power– Will live on! And this time, it shall be shaped by a man who knows how to use power!… …The Green Goblin is no more! But in his place now stands– the HOBGOBLIN!!"...
The Amazing Spider-Man (vol. 5) #71 – REVIEW
Oct 28 • 33:16
Who the heck is Kindred and what in the world does he want?...
Sinister War #1 – REVIEW
Oct 21 • 32:08
It's not just a brawl, it's a war!...
The Amazing Spider-Man (vol. 5) #70
Oct 15 • 26:27
All of Spider-Man's biggest baddies are lining up for the mother of all fights!...
Giant-Size Amazing Spider-Man: The Chameleon Conspiracy #1 – REVIEW
Oct 11 • 00:00
It turns out the Chameleon was the friends we made along the way…...
Amazing Friends: Brian Level
Oct 2 • 00:00
Dan sits down with artist Brian Level about his work on Amazing Spider-Man: Renew Your Vows (vol. 2) #11-12 and Absolute Carnage: Separation Anxiety #1, plus insights into working alongside Ryan Stegman, and freelance work at Marvel. Plus, a discussion of his new book "The Brothers James"....
The Amazing Spider-Man (vol. 5) #69 – REVIEW
Sep 27 • 00:00
October is right around the corner and you know what that means… Jack O' Lanterns! Speaking of Jack O' Lanterns…...
The Amazing Spider-Man (vol. 5) #68 – REVIEW
Sep 22 • 00:00
The Foreigner has Spider-Man in a pickle, or does he?...